Diabetes Recipe – Baked Lemon Fish With Tomatoes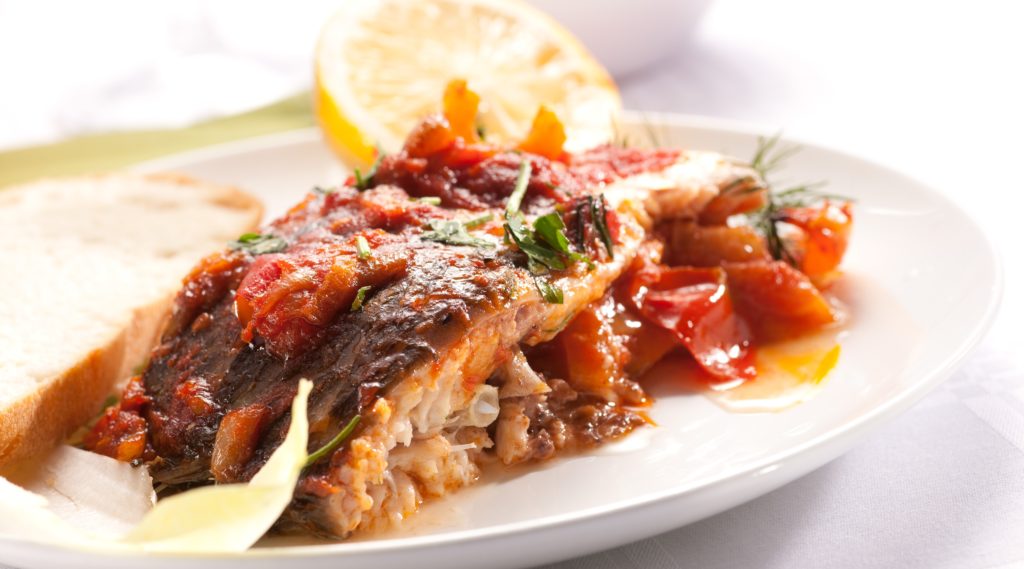 Preparation :15 Minutes
Cooking :20 Minutes
Serves :4
Nutrition Facts
Makes 4 Serving (Amount per serving)
Protein (g):
39
Carbohydrates (g):
6
Total Sugars (g):
5
Dietary Fibre (g):
3
Total Fat (g):
9
Saturated Fat (g):
2
Sodium (mg):
253
Ingredients
1 onion thinly sliced
1 clove garlic, crushed
2 sprigs fresh thyme
720 g (6 oz) thick white fish fillets, skin and bones removed
Freshly ground black pepper
1 lemon thinly sliced
4 tomatoes cut into wedges
2 bay leaves
1 tbsp olive oil
3 tbsp white wine
½ cup (125ml) salt-reduced chicken stalk
1 tbsp chopped fresh parsley
Directions
Preheat the oven to 200 ℃
Spread the onion, garlic and thyme sprigs in roasting pan that will be large enough to hold all the fish fillets, with a little space in between. Place the fish on the top and season well with freshly ground black pepper
Arrange the lemon slices over the fish and scatter the tomatoes and bay leaves around the fish. Combine the olive oil, wine and stock and pour over the fish.
Bake the fish for 20 Minutes.
Note
Remember to manage your portion sizes. Recommended portion size should not exceed 2 servings/helpings. Consuming diabetes friendly recipes in inappropriate portion sizes may lead to spiking of your blood glucose levels.
For more related recipes, click o the link below.