Diabetes Recipe – Chiang Mai Chicken Curry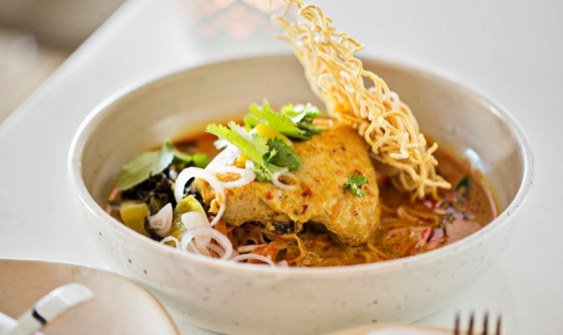 Nutrition Facts
Makes 4 servings (Amount per Serving)
Calories (kcal)
518.8
Protein (g)
48.9
Carbohydrates (g)
26.9
Total Sugars (g)
4.4
Dietary Fibre (g)
3.1
Fat (g)
24.9
Saturated Fat (g)
10.1
For the curry paste: 2 tsp Coriander seeds
1 tsp Cumin seeds
3 Cloves
2 Cardamom pods
1 Star anise
5 Dried long red chillies, deseeded, soaked and drained
Pinch of salt
3 tbsp Lemongrass, chopped
5cm/2" piece fresh root ginger' chopped
1 tsp Turmeric
4 Shallots, chopped
6 Garlic cloves, peeled and chopped
For the curry: 1 Organic, free-range chicken, about 1.6 kg/3½ lbs
2 Garlic cloves, peeled
2 cm/1" piece Fresh ginger root, peeled
2 tbsp Coconut oil
12 Shallots, peeled
2 tbsp Cashew nuts
2 tbsp Fish sauce
Water or chicken stock to cover
Steps:
First, dry the coriander seeds, star anise, cumin seeds, whole cloves and cardamom pods in a small dry pan until fragrant. When cooled, remove the cardamom seeds and discard the pods. Grind the spices in pestle and mortar. Combine these with the other curry paste ingredients and mix to a paste either in a mortar or in a food processor.
Wash the chicken, joint into 8 pieces and remove the skin. Mash the garlic cloves and ginger to make a paste. In a large pan, heat the coconut oil and fry the garlic and ginger paste until golden. Add the curry paste and chicken and simmer for several minutes, turning frequently. Add the whole shallots and cashew nuts. Season with fish sauce. Cover with stock or water and simmer for at least 30 minutes, or until the chicken is tender.
Note: The combination of chicken and nuts gives this dish a very high magnesium content (125g per serving). Magnesium is key mineral for diabetics: and it has been shown that people with low magnesium are at higher risk of type 2 diabetes.
For more related recipes, click o the link below.