Diabetes Recipe – Hearty Chicken Stew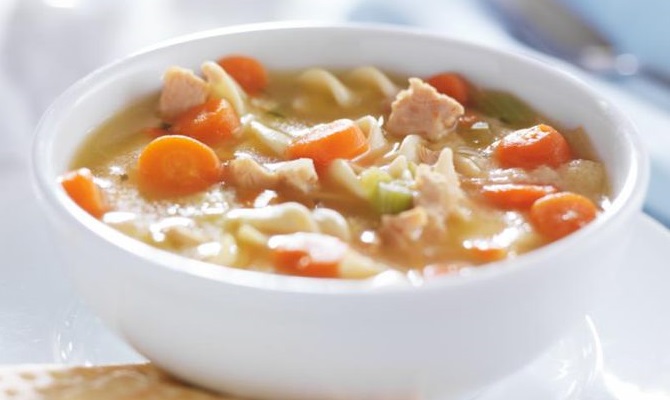 Preparation :25 Minutes
Cooking :27 Minutes
Serves :4
Ingredients
2 teaspoons olive oil
4 skinless, boneless chicken thigh cut into 11/2-inch pieces (1 pound)
4 medium carrots, thinly sliced (2 cups)
2 stalks celery, thinly sliced (1 cup)
2 medium spring onion, thinly sliced (2/3 cup)
3 cloves garlic, minced
2 cups chicken broth
1 medium round red potato, cubed (3/4 cup)
1 cup frozen cut green beans
¼ teaspoon ground black pepper
½ cup fat-free milk
1 tablespoon flour
Cracked black pepper
Directions
Heat oil over medium flame. Add chicken, carrots, celery, spring onion, and garlic. Cook and stir for 5 to 8 minutes or until chicken is brown on all sides and vegetables are cooked. Stir in chicken broth, potato, green beans and ground black pepper.
Bring the broth to boiling; reduce heat. Simmer, covered, for 20 to 25 minutes or until vegetables are tender and chicken is no longer pink.
Meanwhile, in a small bowl whisk together milk and flour until smooth. Stir mixture into cooked stew mixture. Return to boiling; reduce heat. Cook and stir about 2 minutes or until mixture is thickened. Serve the stew into four bowls. Sprinkle each serving with cracked black pepper.
Nutrition Facts
Make 4 servings (Amount per serving)
Calories (Kcal)
269
Protein (g)
27
Carbohydrates (g)
24
Total Sugars (g)
8
Cholesterol(mg)
108
Total fat (g)
8
Sodium (mg)
462

Note
Remember to manage your portion sizes. Recommended portion size should not exceed 2 servings/helpings. Consuming diabetes friendly recipes in inappropriate portion sizes may lead to spiking of your blood glucose levels.Note
For more related recipes, click the link below.