Diabetes Recipe – Mediterranean Veggie Wrap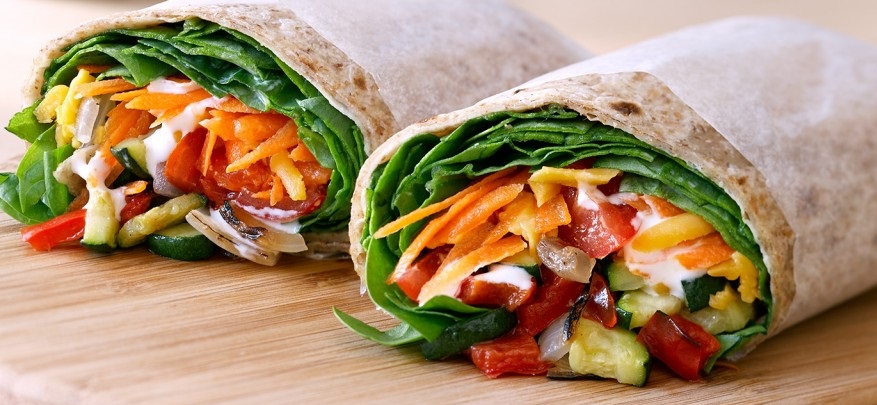 Preparation :10 Minutes
Cooking :10 Minutes
Serves :4
Ingredients
4 cups mixed green leaves (cabbage/lettuce/spinach)
½ large cucumber
1 cup chopped tomato
½ thinly sliced red onion
½ cup crumbled cheese
1 tablespoon balsamic vinegar
1 tablespoon olive oil
1 clove garlic minced garlic
¼ teaspoon black pepper
4 light tomato-flavour oval multigrain wraps
2/3 cup hummus
Directions
In a large bowl combine all the greens, cucumber, tomato, and red onion and cheese. In a small bowl whisk together vinegar, olive oil, garlic and black pepper. Pour dressing mixture over greens mixture. Toss to combine
Spread each wrap about 2 & ½ tablespoon of Hummus. Top each with 1/4th of dressed greens mixture roll up and serve immediately.
Nutrition Facts
Make 4 servings (Amount per serving)
Calories (Kcal)
269
Protein (g)
16
Carbohydrates (g)
35
Total Sugars (g)
3
Cholesterol(mg)
3
Total fat (g)
12
Sodium (mg)
574
Note
Remember to manage your portion sizes. Recommended portion size should not exceed 2 servings/helpings. Consuming diabetes friendly recipes in inappropriate portion sizes may lead to spiking of your blood glucose levels.
For more related recipes, click the link below.