Papaya And Coconut Smoothie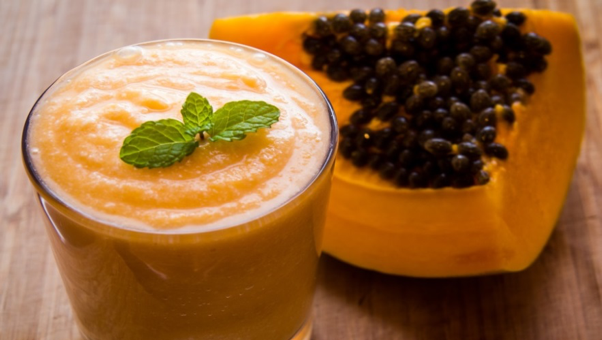 Nutrition Facts
Makes 2 servings(Amount per Serving)
Calories (Kal)
205.4
Protein (g)
4.6
Carbohydrates (g)
32.9
Total Sugars (g)
20.4
Dietary Fibre (g)
4.1
Fat (g)
7.7
Saturated Fat (g)
5.6
Serves: 2, Time taken: 5 minutes
1 Ripe papaya, peeled, seeded and cut into chunks
2 Oranges, juiced
½ Banana, cut into chunks
90g/3 oz silken tofu
60ml/2 fl oz (4tbsp) Coconut milk
1 tsp grated root ginger
Steps:
Put the papaya, orange juice, banana, tofu, coconut milk and root ginger into the blender.
Blend until smooth and serve immediately. (This is also very refreshing on a hot day if you freeze the papaya chunks and banana first)
Note: Papayas are particularly rich in vitamins C and are also a useful source of antioxidants and fibre. They also contain an enzyme called papain which breaks down protein. In Chinese medicine, papayas have traditionally been given to those who find it difficult to digest protein-rich foods.
The combination of papaya, orange juice and banana delivers quite a high glycemic load, which is why we have added some tofu. It would be wise to eat a protein food alongside this too, such as poached and scrambled eggs without the toast, or a piece of fish.
For more related recipes, click o the link below.