Diabetes Recipe – Tropical Banana Freeze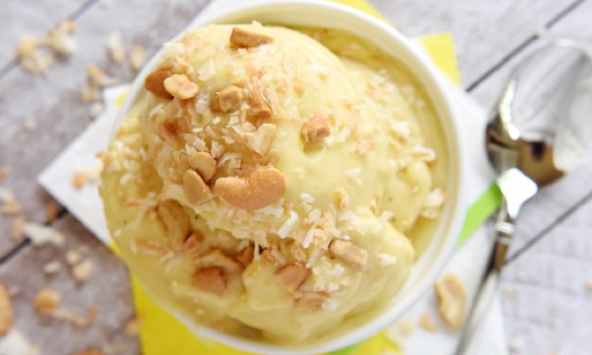 Serves: 4, Time taken: 10 minutes plus 1-hour freezing
Nutrition Facts
Makes 4 Servings (Amount per Serving)
Calories (kcal)
189.8
Protein (g)
2.3
Carbohydrates (g)
33.6
Total Sugars (g)
17.4
Dietary Fibre (g)
3.8
Fat (g)
7.2
Saturated Fat (g)
5.2
1 tbsp Grated fresh, frozen or desiccated coconut4 Bananas, peeled
1 tbsp Sesame seeds
100ml/3 fl oz Coconut milk
1 tbsp Honey
1 Lime, juice only
Steps:
Slice the bananas into 2.5cm/1" pieces, lay them on a baking tray and freeze until hard (at least one hour)
Dry fry the coconut and sesame seeds, stirring frequently, until browned
Just before serving, take the bananas from the freezer and place in the blender with the coconut milk, honey and lime juice. Blend until smooth. Serve in small glass bowls, garnished with the toasted coconut and sesame seeds.
Note
The Glycaemic Load (GL) of banana depends on the variety of banana, where it was grown, and most importantly, how ripe it is. Choose slightly underripe bananas and the GL can be low as 11, and even the mean of 10 studies was only 12.
For more related recipes, click the link below.