Hypochondriasis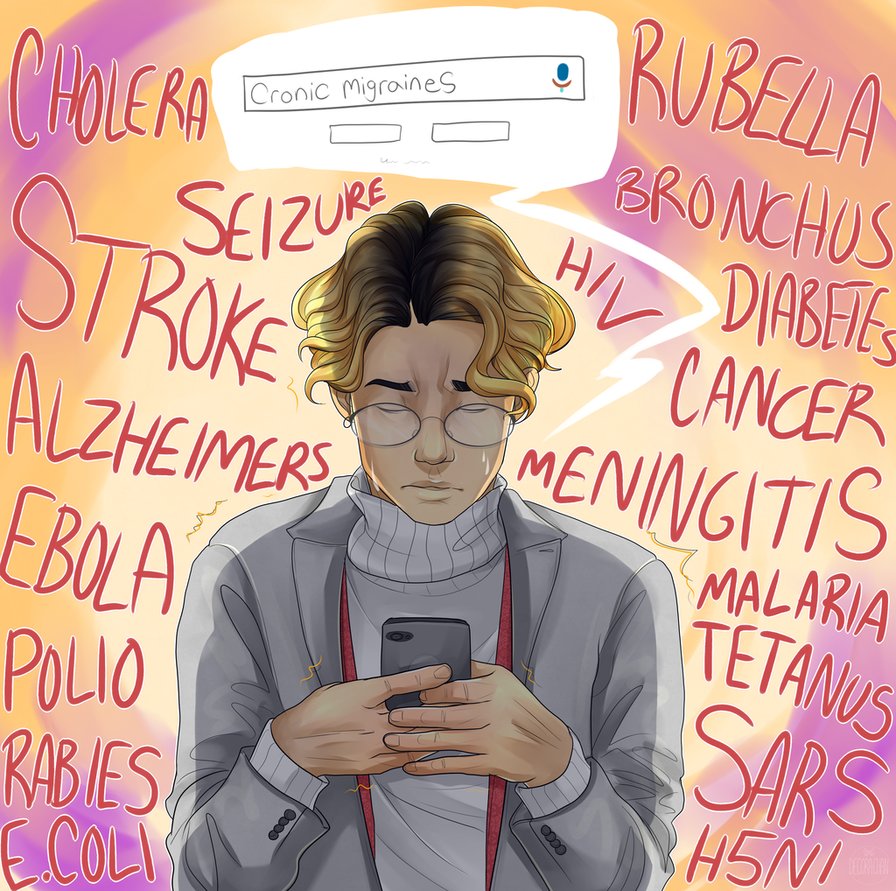 It is natural for people to worry about their health. But hypochondriacs get extremely worried about their health and feel that they are seriously ill, or are about to suffer from a seriously illness. Such people do not have any symptoms or experience very less symptoms. Even minimal symptoms become a cause of concern for them.
Some people with hypochondria suffer from a medical condition which is usually not that serious, but they fear that they are suffering from a major disease. Other people with hypochondria are healthy, but have an overwhelming fear about their health in the future. For example, they might think: "What if I get cancer?"
Hypochondriacs are affected with a low quality of life and this condition affects their day to day activities.
κάντε κλικ σε αυτό το σύνδεσμο
Causes of hypochondria?
The clear cause why people have hypochondria is unknown, but it is more common in people who:
Had stress, illness or a death in the family
Had a neglected or abused childhood
Suffer from serious physical illness
Suffer from serious mental health issue such as anxiety, depression, a compulsive disorder or a psychotic illness
People who have a negative outlook towards life
There are some activities which can make a person more prone towards hypochondria:
Studying about diseases on the Internet
Watching too much TV for diseases
If that person knows a person who is suffering from a serious medical condition
What are the symptoms of hypochondria?
Some common symptoms of hypochondria are:
Affected person continuously thinks about suffering from a serious illness
Affected person keeps on seeing a doctor, in spite of doctor's continuous reassurances
Keeps on undergoing medical tests
Always keep on talking about health with friends and family
Spends a lot of time on the internet studying symptoms
Disturbed sleep
Suffers from with poor relationship with family, at work and society because of concerns about their health.
What is the treatment of hypochondria?
Doctor will look out for physical problems with which a hypochondriac person usually suffers:
Gives the affected person advice and teaches self-help techniques
Cognitive behavioral therapy is done on such patients
Refers the person to a counselor or psychiatrist
Antidepressants are prescribed to reduce anxiety.
Exercise, good diet and family support helps to reduce the symptoms of hypochondria
What are the complications that can happen, if hypochondriasis is left untreated?
Person with hypochondria can have below mentioned possible complications
Affected person usually suffers from an affected relationship as the near and dear ones are continuously frustrated with the patient's talk
Affected person in unable to perform well in work place
Person is unable to concentrate on daily life activities; hence it can even lead to disability in performing simple tasks
Frequent doctor visits and health checkups can cause financial crisis
Eventually person suffers from somatic symptom disorder, other anxiety disorders, depression or a personality disorder
How can hypochondria be prevented?
There are some suggestions from doctors which can prevent hypochondria
If anyone is suffering from anxiety, it is advisable to seek professional help soon to prevent further complications.
Try to manage stress in your Life-Seek help, meditation and exercise can help you relieve from stress.
Seek doctor's advice on a regular basis and stick to your treatment plan to prevent the relapse of hypochondria, in case you are diagnosed with the same
Sources:
https://www.mayoclinic.org/diseases-conditions/illness-anxiety-disorder/symptoms-causes/syc-20373782
https://my.clevelandclinic.org/health/diseases/9886-illness-anxiety-disorder-beyond-hypochondriasis
http://beyondocd.org/expert-perspectives/articles/hypochondriasis-what-is-it-and-how-do-you-treat-it
https://www.ncbi.nlm.nih.gov/pmc/articles/PMC181122/
https://www.healthdirect.gov.au/hypochondria