Fruits with exceptional Health benefits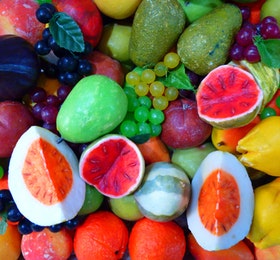 Berries, especially raspberries and strawberries, contain ellagic acid, another phytochemical that may help protect against cancer-causing agents in the diet and the environment. Red berries are easily available in market and can be included in the daily fruit intake during when they are seasonally in.
Nuts are one of the most balanced foods on the planet. They offer a good dose of "healthy" fats along with a smaller amount of protein and carbohydrate. Each type of nut offers a unique profile of minerals and phytochemicals.
Grapes, especially dark-colored ones, are loaded with phytochemicals, antioxidants that may help protect against cancer and heart disease. Two of those phytochemicals, anthocyanin and proanthocyanidin, may be especially good for your immune system.
Pineapple is a nutrition superstar. One cup (237 ml) of pineapple provides 131% of the Reference Daily Intake (RDI) for vitamin C and 76% of the RDI for manganese. Pineapple also contains bromelain, a mixture of enzymes known for its anti-inflammatory properties and ability to digest protein.
Dark chocolate- Dark chocolates are rich in flavanols and polyphenols. A popular study conducted by Harvard experts and published in the online Journal Heart suggests that is actually good for your heart especially, the one with 70% cocoa.